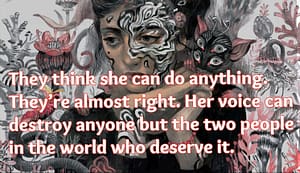 My fantasy short story "A Start to Judgment" is free to read today in the Summer 2022 issue of Kaleidotrope!
Story content warnings: suicidal ideation, self-harm.
"A Start to Judgment" is a full-scale epic fantasy: preparation for the Final Battle against the malevolent god, the two-pronged waging of the Final Battle, and the face-to-face confrontation between hero and god. All packed into 1500 words (3-5 pages)!
Epic fantasy confrontation is a familiar trope. But how will it unfold differently if the Chosen One knows that her power comes from the very thing she is trying to overthrow?
Arsha plays the role expected of her, though she's known for years how their rebellion will end. She thought she could endure one last survey of her knights and archers and footmen before the final battle, but the guilt still cracks her insides like a pickaxe. The free people of the world have placed their faith in her, the Chosen One. Tomorrow she'll face the Flensed Lord and betray them all.
As always, support those fine websites that bring you so much free fiction!
Spoilery notes below the fold. Go read the story first, it won't take you long!