My short story "A Living Planet" came out today in the Jan/Feb 2022 issue of Analog Science Fiction & Fact! This is my long-awaited "Martian's Husband" story, inspired by my time at home during my wife's year on Mars.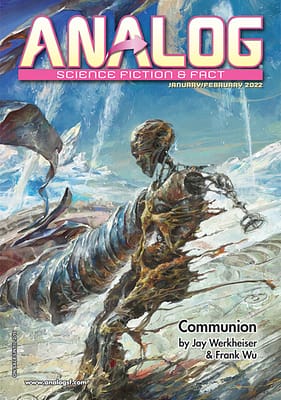 The spacecraft Hawai'iloa has fallen silent, halfway to Mars. Ethan's wife is up there, receding and unreachable. But he still has a boss to win over, a job to keep. There's nothing glamorous about his spot on the mission control team of an uncrewed orbital-cleanup spacecraft, but Ethan needs that simplicity. It keeps his eyes on the solid Earth and everything that might keep him sane, instead of raised to the emptiness above.
He's waiting for word from space. But the Hawai'iloa might not be the only thing up there trying to contact Earth.
Despite the Jan/Feb 2022 cover date, the issue is available now in bookstores and online, though subscriptions may take a few more weeks to reach your mailbox. You can subscribe to Analog in print or electronic, buy the current issue from Amazon, email Analog (customerservice @ pennypublications.com) to buy copies of individual issues, or find them in your local bookstore. Download a pdf of the story here.
An electronic version is available to SFWA members on the internal forum, or by direct request. The electronic version will go public here once the story leaves exclusivity in February 2022.
Story notes will appear are now up on the Astounding Analog Companion blog!