Today is the final stop of the Putting the Science in Fiction1 blog tour, where ten of its authors offer ideas and story prompts to help you get some exciting science ideas to help build your National Novel Writing Month  (#NaNoWriMo) efforts – and offer you a chance to win a free copy of PSIF. As you may know, I'm a neuroscientist as well as a SFF writer and editor, so I contributed a chapter on Cyborgs & Cybernetics to PSIF.
My chapter is an expanded version of my "Putting the Science in Fiction" blog post Seven Things Authors Should Know about Cybernetics, so take a peek there if you need a refresher. This topic covers everything near-future medical implants to space opera neurotechnology, so it's a field rich with possible stories.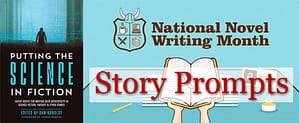 Machines, You, and Other Synonyms
Cybernetics – the hybridization of human and machine – is a staple of science fiction, from ubiquitous internet-access implants to the terrifying Borg to the differently terrifying ancillaries of the Imperial Radch. It's easy to include cyborgs in a story: give a character a little bit of superhuman capability, maybe a little bit of discrimination or prejudice, a dash of handwavey Humanity Loss if you're feeling cyberpunk. But who needs to stay bound by those shallow clichés? After all, not only is NaNoWriMo coming up, but even after it's over, the next year is forecast to have 365.25 other good days to start a new writing project.
Let's dig a little deeper into what cybernetics might really mean for the recipients, society, and culture. I think we'll find ourselves a rich vein of story prompts down here. I'm going to open three idea-mines for you, and I promise I'll dig them deep.
The Brain is Enslaved to the Body
The development of any animal's brain follows from the development of their body, not vice versa. Grotesque-but-fascinating animal experimentshave shown that if you alter an animal at birth, e.g. by blinding it, you radically alter their brain development. Visual areas of the brain only develop because vision-like information arrived from the eyes and the world. In the words of one of that experiment's authors, "the brain is enslaved to the body."
What might happen, then, if we change the brain?
Perhaps we can add a new source of data – a new sense – to a newborn brain, and they'll develop to adapt to it. Or worse yet, they might not quite succeed. After all, the brain isn't infinitely changeable; an embryonic cow brain transplanted into a human body wouldn't become a human. Plus, it's not as if our brain is sitting around with spare capacity. Despite myths to the contrary,we use 100% of our brains, 100% of the time. If we try to add more or different functions, will we simply fail? Or will we pay some other price, in the tradeoffs of brain development?
It's certainly a risky proposition. Almost certainly unethical. What pressures, then, might drive parents to make such a decision for their newborn child?
Blue Collar Borg
As William Gibson once said, the future is already here, it's just distributed unevenly. The first clinical trial of a human cybernetic implant– a chip implanted in the brain to control a computer – began in 2004. The current studybegan in 2009, scheduled to finish in 2021. It will be many years yet before these become a reliable, common medical device. Once the technology is established and safe, how will it trickle down into everyday life?
Many technologies start among the rich, and slowly become cheaper as companies try to widen their markets. Medical technologies sometimes follow a different route, at least in the United States: if insurance will pay for it, it can become widespread regardless of price. But the medical market for these devices is people with spinal cord injuries, ALS, or other conditions that impair the brain's ability to control the body. Even in the technology's simplest form, controlling a computer cursor with the brain, who else might want that ability?
Will America fill up with medium-rich workers who want an extra edge in the speed and precision of how they control their computers? Will there be advertisements out there to promise you all that speed and precision? Will the products really deliver on that promise, or will your cybernetic implant only save your wrists from carpal tunnel syndrome? What do you do if yours doesn't live up to the promise? Or even if it does at first, what happens when your supplier goes out of business, and nobody remains to honor the service contract for the electrodes in your brain?
Perhaps instead, the real market for cybernetics will be more physical: workers who not only type, but control machines. Perhaps you could control a crane as easily as you move your own arm. Will this transform blue-collar work into an exciting and cutting-edge field, or push them into the realm of the strange and reviled?
Cyborgs and Society
The impact of any technology on society depends on the stories we tell about it. Space travel is the terrain of humanist adventure or fathomless terror. Universal surveillance is the tool of world-saving spies or a soul-crushing panopticon. Even a technology's mere presence onscreen can affect society: eyeglasses became more popular after they began to appear in silent film.
How will movies, books, and other media reinterpret these changes for the mass audience? Will they tell stories of cybernetic implants as a tool to help people, or a tool of control? Will they be ordinary, or a sign of villainy? Hollywood persistently and harmfully portrays disability as a sign of evil. Will cybernetic implants be portrayed as another tool for horror-movie clichés to terrify their victims, for dystopian societies to alter or police their citizens, or as an ordinary part of how we help human bodies – in all their diverse shapes – interact with the world?
We can shape the societies within our stories, but we can also shape the one outside. The next generation of stories are ours to write, starting this November and every day thereafter.
Book Giveaway
This raffle is your chance to win a free copy of PSIF!