With conventions still online for the foreseeable future, I'll be attending a few cons I've always wanted to be part of: which means I'll be on programming for Capricon 41, February 4-7 2021!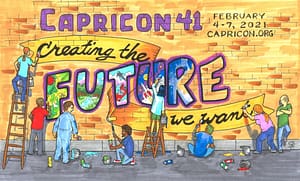 This should be a fantastic convention, with guests of honor Aliette de Bodard, Brandon O'Brien, John Jennings, Michi Trota, and Dr. Cacophonie Tamayo.
You can find me at a couple of panels & a reading.1 As always, I love talking about neuroscience and SFF, so come on by and join the conversation!
We're all made of meat… until we're not.
Thursday 2/4, 7-8pm Central, Willow
A panel on cyberpunk, cyber spies, and other cybernetic imaginaries.
Pablo Vazquez (mod), Benjamin C. Kinney, Casella Brookins, Will Frank
Science of worldbuilding
Saturday 2/6, 10-11am Central, Willow
Scientists talk about world building, and what it takes to get it right.
Pat Sayre McCoy (mod), Benjamin C. Kinney, PatrickJ, Barbara Bennett
Reading: Benjamin C. Kinney
Sunday 2/7, 12:30-1pm Central, Birch
Benjamin C. Kinney reads from "Conference of the Birds" (Analog, Jan/Feb 2021). It's hard work being a mid-level node in an oppressive megacorp's distributed neural network AI.
The full schedule doesn't currently seem to be linked from the main Capricon site, you can find it here.