T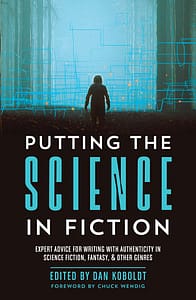 he day has arrived (or did on Tuesday): Putting the Science in Fiction has launched! This fascinating tome contains 59 essays by scientists and other experts, written at a level to help authors integrate believable science into their writing. Includes a foreword by Chuck Wendig – and more importantly, a chapter by me on cyborgs and cybernetics!
As of today, Amazon has the hardcopy only, not the ebook. So why not support your local bookstore and get it through Indiebound instead? For more options, scroll down in the publicity link above.
If you check it out, put up a review on Goodreads and/or Amazon! Your feedback will help sales, and help get this book in front of more rising authors of speculative fiction.