This month I got a lot of work done, but not with much success. I spent most of my time revising my VP18 submission story, and it's much improved now, though it still needs at least one more draft. I also touched up my fantasy story "Weights and Measures" and sent that out again; my flash fiction story "Custom Made" also got relaunched, and I spent some time tweaking my VP18 Thursday story "The Nursery" (though it hasn't yet reached satisfying-new-version stage).
I also did a round of edits on "The Wind and the Spark," my story due out in the February issue of Fictionvale. It was a wonderful process, with lots of good feedback. This piece really needed it, since it was one of the earlier things I wrote: first draft in May 2012, first submitted Feb 2013, submitted to Fictionvale on last new years', sold April 2014. (They turnaround is not normally so slow: I got a "we want this for a later issue than the one you intended it for" reply). The story has a great core idea, but I am extremely grateful for the opportunity to revise it with all the new skills I've gained in the last year.
I'm doing a lot of strategic juggling for deadlines this/next month. I've got something lined up for F&SF's electronic submissions period (with C.C. Finlay's guest editing) in early January, for the James White Award (due 1/31), and possibly the Roswell Award (due 1/15). I might have something for Crossed Genres' "failure" theme on 1/31. All of those require slight-to-moderate work, except for the CG one that needs a lot of rewriting.
Mostly, this month was notable for its stack of rejections. I racked up seven of them this month, including my two best pieces that seemed like great fits for their markets. Very disheartening.
But looking at the whole year, it's been a great one for my writing! I sold my first story, and I attended Viable Paradise; I learned an enormous amount, met lots of awesome authors, and my new material is better and better.
I leave you all with a photograph. My wife has had a "Chanukah bush" for the winter holidays ever since she was a child. We couldn't easily track down a pine shrub, so we went a different route. I think we're doing it right!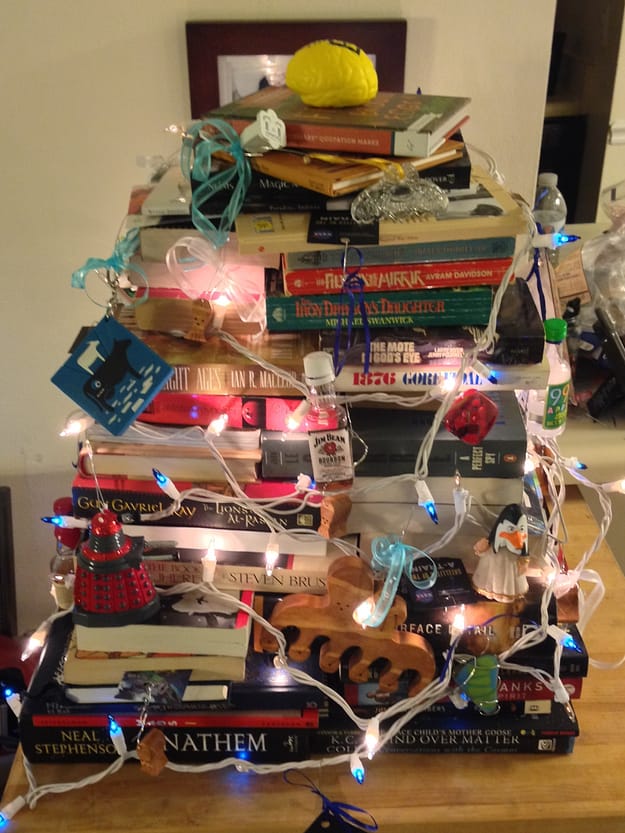 Happy new year, everyone!