When I withdrew my finalist story from Writers of the Future a little more than a year ago, one of the agonies about (not) supporting WotF was the work they do to support, award, and draw attention to new SFF writers & artists. If only that was actually the motive of WotF's organization.1
Out of those dark days, a new organization has arisen: The Dream Foundry. Their mission is to support and  promote SFF creators across their careers, starting with mentorship and a judged contest for new writers 2 The Dream Foundry has been created by and for SFF creators – there are no outside interests or motives, beyond improving this ecosystem we all live in, and helping welcome every new generation of writers into the SFF community!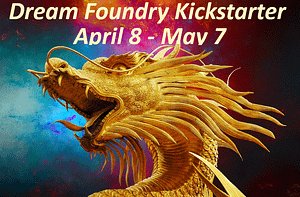 Today, the Dream Foundry kickstarter has gone live. At the time of posting, less than 1 day in, they're over halfway to their goal. But that first goal is just the basics. With enough money, they can start piloting their contest right away. All their goals and costs are laid out on their page.
Check out the Kickstarter, earn some fun rewards – and most importantly, help make speculative fiction a more welcoming place for new creators.
Oh yeah, and there's a critique by some familiar names at the $150 Aerial Patrol support level!
If you have questions, see the links in my post above. Especially SFWA's statement of concern and this story.