My epic fantasy short story, "Weights and Measures," is now available to read in Heroic Fantasy Quarterly issue 46! HFQ is free to read online, and you can support them via Patreon.
Agnella, senior priestess of the Trader, has come north to Senvosk to track a stolen relic. But by the time she arrives, the local priest has already been murdered. Agnella has only one local novice to rely on, as a rival god begins his hunt.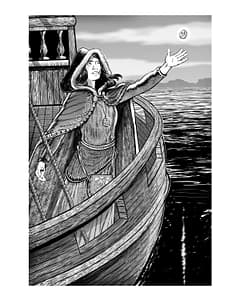 Heroic Fantasy Quarterly commissioned this awesome piece of original art for my story. Here's a view of the opening image, the first exchange between Prelate Agnella and the East Wind.
I've written a lot of stories in this epic fantasy world, and this is the first one to see publication. In fact, I've written an entire novel. Perhaps someday you'll all get to read about a certain up-and-coming priestess of the Trader who finished her training, earned a new name, and saw places farther beyond the edge of the world than even her childhood Senvosk.