Update: With the closure of Hybrid Fiction, this story is now available here on my website.
My Jewish steampunk short story, Machines in Motion, is available in Hybrid Fiction's September 2020 issue! The publisher, Hybrid Fiction, is a new magazine showcasing stories that merge and combine genres – in my case, steampunk and historical fiction. For $3.99 (or less if you support them on Patreon) you'll get 8 great stories, plus art, and a chance to support small creators and new magazines.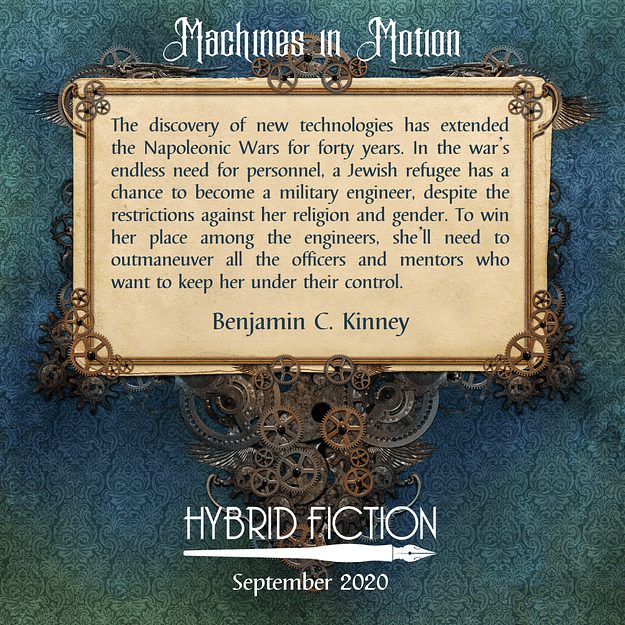 Not sold yet? Here's a teaser sample of Machines in Motion released on their website last week.
A spoiler-free note on terminology: in the nineteenth century, prior to the mid-twentieth century, the word "Jew" (the noun) was primarily used as an insult. The adjective "Jewish" didn't have the same connotations, but Jewish people largely referred to themselves as "Israelites" or similar ideas. This changed in the mid-twentieth century when the foundation of modern Israel created a different meaning for "People of Israel" and Jewish people largely (though not entirely) reclaimed the noun "Jew."
Keep reading below here for some author notes about the story. May contain spoilers, so if you haven't read yet, stop here!
---
Story Notes
Machines in Motion is about – among other things – the tensions of assimilation. Eszter comes to a clear conclusion at the end, but I consider that ending a dark one. She might get the career she wants, but she's paying a steep price. The things she tells herself are, without exception, lies.
This story is being published on Rosh Hashanah, the Jewish New Year. Ironic, for a story that seems to reject a Jewish identity. But no matter what Eszter tells herself, her experience is defined by a Jewish lens and faith. Like many of us here in the late 20th century, she'll need to find a balance in the gearing: between the mechanisms her world expects, and the mechanisms that drive her.
Early in my writing career I wrote a series of stories about Eszter. Recently, I've had the good fortune to find homes for two of them. Machines in Motion is the second chronologically; the first one tells of Eszter's escape from Budapest and her first meeting with Lujza, and will appear in the excellent Kaleidotrope in 2021 under the title The Promise of Iron.
Someday I may return to writing Eszter's, because her path isn't finished. She has a long way to go ahead of her.
Steampunk can be a difficult genre to write in. Too much of it is tied into Victoriana, and all that period's implicit assumptions and oblivious, imperialistic dreams. But even a steampunk Europe contains people at the margins, who have much to gain – and much to lose – as new technologies and brutal wars upset the world's entrenched patterns.
I am American, but much of my ancestry comes from Hungary, and I spent a week there once visiting distant relatives. Pálinka (Hungarian fruit brandy) can be good or terrible, but apricot is definitely the best flavor. Krémes is a very good Hungarian pastry, albeit not the best (that's Zserbó), but Krémes has a refined fluffy lightness that better fits a noble like Sipos. Try them both and make your own decisions. You won't regret it.