My first pro short story, Meltwater, is up today on Strange Horizons!
This is possibly the weirdest story I've ever written, despite its short length, but I love it all the more for that. Below the fold you'll find some author's notes. Contains some spoilers, so go read (or listen to) the story first .
–––––
I produced this story's first draft in a fit of pantsing for a "Short Story In A Week" challenge for the Other Worlds Writers' Workshop. The prompts were pictures, and this one caught my eye: "Expiatory Temple" by George Grie.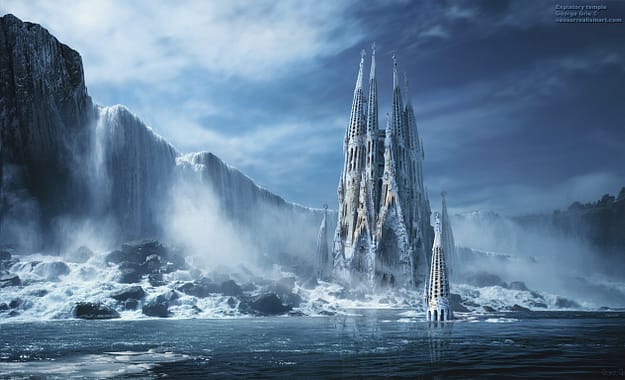 At first glance, I loved the tone. Cold, mournful, stately. On second glance– isn't that the Sagrada Familia in Barcelona? And then my mind began churning: how did it end up below waterfalls? How much would Earth have changed, to permit a scene like that?
At the time, I had been playing the Shadowrun RPG over the internet, using Google Hangouts to interact with the players and GMs back in Rhode Island. Befitting my face-on-a-computer-screen status, I played an artificial intelligence, "The Crow," who had developed from a distributed network of surveillance and behavioral-prediction routines. The story and character(s) in Meltwater differ in every detail imaginable, but developed out of a subconscious filled with explorations and questions about how a distributed AI might interact with its other selves.
Speaking of "character(s)," one of my favorite ways to describe this story's weirdness is that I, the author, cannot tell you how many characters it has. Not that I don't know – but rather that it's a meaningless question. Two? Three? Four? One? These are all valid answers!