NeuroThursday is wafting by this week for a piece on smell, taste, and emotion! The full text is posted here, below the Twitter link. You can also find a ThreadReader version at the very bottom.
Inhale deeply, and enjoy the aroma of #NeuroThursday, because this week I want to talk about smell, taste, and emotion – inspired by Tina Connolly's Nebula- and Hugo-finalist novelette, "The Last Banquet of Temporal Confections."
If you haven't read it, it's a wonderful story about memory, food, cruelty, and empathy. But you don't need to read it for this thread. I'm here to talk about neuroscience, not pastry-magic. https://www.tor.com/2018/07/11/the-last-banquet-of-temporal-confections-tina-connolly/
Tastes and smells are notoriously emotional. Smells can evoke a flood of memories, with all their associations. Freshly-cut grass, your partner's favorite flowers, the spices of your favorite meal, or the ammoniac strike of a campground toilet. Why so strong?
The first step is to realize that by "taste and smell," we're really just talking about smell. Most of the experience you get when enjoying food – the stuff we think of as "taste" – comes from the nose, not the tongue.
(Try eating with your nose clamped shut. Or don't. It's terrible.)
So now we're talking just about smell. This sense works via 10-20 million olfactory neurons (labeled in image as "receptor cell"). They're embedded in "olfactory epithelium" at the roof of your nose. (Epithelium = body's surface layers, whether skin or a hollow space.)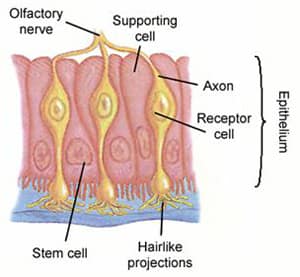 Each of those neurons has one type of "olfactory receptor," which does the scent detection itself. One receptor type, but many copies of it.
A scent enters your nose, dissolves into the mucus in there (appetizing!), and thus reaches olfactory receptors. When a receptor matches the scent, the two molecules will bond. Ions flow into the neuron, and a signal is produced.
Olfactory receptors are incredibly diverse. 900+ genes (the largest gene family in the body), and each receptor is broadly tuned so it can detect more than one scent. Like the visual receptors in the eye, which I discussed on a NeuroThursday past.
Color vision – all vision – comes from cells in the back of your eye (your retina) that detect light. These cells are called "rods" and "cones," because they're shaped like… yeah, exactly. pic.twitter.com/Gj1qOzNxT5

— Benjamin C. Kinney (@BenCKinney) February 16, 2018
In the eye, your "red" cones respond strongest to red light, but respond medium-strongly to wavelengths close for red. Same idea in the nose: each receptor can respond medium-well to scents with similar molecular shapes.
This is why scents *mean* things. If two molecules are related (with common features), they'll bond to the same receptors (though not at equal strength). Same receptors = similar info to your brain = similar smell!
As with the eyes, broad tuning – a neuron has one target, but responds weakly to near-misses– is the way to perceive structure in the world.
This is super-fundamental, preserved across evolution. Olfactory neurons have basically the same cellular and molecular properties across all animals.
So now that we understand the biology of smell, we're ready to ask why they're so emotionally powerful.
Most of those emotional associations are learned: with exposure, we've learned that swimming-pool-chlorine tastes like summer. This can, in turn, bring up a specific summer-pool memory.
(There are exceptions to this "learned" thing – particularly in the realm of disgust, which starts as a hardwired thing. But even there, learning & association add layers.)
But smell memories can be more emotionally vivid than others. Is there something special about smell and emotion?
We have ideas, but no solid answers. "Emotional memory strength" isn't exactly something modern science can study effectively. But the anatomy does point toward a possible explanation.
Those little olfactory neurons are rooted in your Olfactory Bulb, which does some initial processing of olfactory information, and receives guidance from top-down stuff like attention.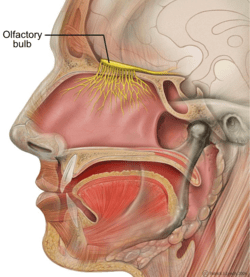 The olfactory bulb is part of your brain, and it connects straight to the limbic system: a network of areas in the brain involved in emotion and the formation of memories.
Some well-known parts of the limbic system could deserve their own NeuroThursday, since there are a lot of misunderstandings about them. If you know what the "hippocampus" is, I'd say 30% odds you know something false.
But the point here is that the olfactory bulb has direct access to parts of the brain involved in emotion and memory. One possible #NeuroThursday takeaway is that, yes, there's an anatomical basis for smell memories to be uniquely evocative.
However, I'd like to finish by pivoting from fact to opinion. (Can your olfactory neurons detect the rank smell of punditry?)
Smell can be highly emotional. But so can vision and hearing. The sight of a loved one, the sound of a familiar song. Even a gentle touch, at the right time, can produce a mighty emotional response.
I'm not 100% convinced that there's anything uniquely emotional about smell, compared to our other senses. Maybe its emotional-intensity only stands out because we don't think about smell as often: we needed to be reminded of its intensity.
Powerful memories and delicious scents may make a challenging research project, but they're a deep (and hopefully delicious) part of our lives, whether or not we pay attention to them.
Did you enjoy the scent of this #NeuroThursday on taste, smell, and emotion? Share it around, or check out some of my fiction! And if you haven't yet read Tina's story above, now's the time!
---
Threadreader version:
https://threadreaderapp.com/thread/1141845165142958080.html