Check out this awesome cover for "The Internet is Where the Robots Live Now," the upcoming anthology with my Brave Little ToasterMining AI story – now available for preorder!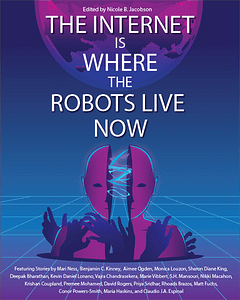 We are headed for convergence. The separation between mind and matter, robot and man, the artificial and the sublime is becoming less every day. Will we crash into extinction or wake to a future beyond our current comprehension? Join some of the brightest voices in science fiction today as they tell twenty unique stories exploring the thinning space between mind and machine.
Preorder your copy today! Contains original short stories from myself and nineteen other excellent authors including Vajra Chandrasekera, Maria Haskins, Premee Mohammed, and Aimee Ogden.