Updated September 2018: I have the paperback anthology in my hands at last: the award-winning anthology Mind Candy (Myriad Paradigm Press), containing "Toward Lands Uncharted," my fantasy story about a spy and diplomat who must try and protect her conquered nation from the capricious power of imperial border-magic.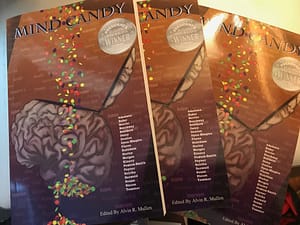 Check out the anthology's fine new cover, and pick up a copy on Amazon!
This story began in a writing exercise for Mary Robinette Kowal's Short Story Intensive workshop in summer 2016. My core idea was the Censor of Maps: someone who changes maps, and in doing so, rewrites the nations beneath. Not so fictional at all, since it's inspired by the Sykes-Picot agreement, where an imperial power made a single callous decision that builds and destroys nations. (Hardly the only instance of such a thing.) But need a speculative/magical element in my historical fiction, so I made the political into the literal: a magic that erases nations, places, and peoples.
I very nearly named this story "Sic Hunt Draconis:" here be dragons. The unknown spaces, the fears and possibilities we write into the uncharted spaces of our lives. But it would've been a terrible bait-and-switch to use that title in a story with no actual dragons!