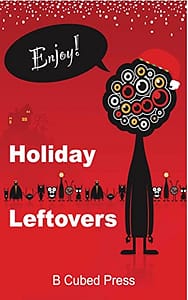 Late breaking 2022 reprint! The anthology Holiday Leftovers anthology (B Cubed Press) is out today with my short story Machines
in Motion. It originally appeared in the September 2020 issue of the now-defunct magazine Hybrid Fiction. I'm delighted that my gritty little tale is back online where the world can read it. Get yourself a copy, and support the
small presses that keep SFF publishing alive & scrappy!
This story is not about your Christmas-style holidays. It is about Shabbat, the weekly Jewish holiday of rest. But it has a dark and intimate angle on Shabbat, and on having the grit to do the work we choose, for better or for worse.
Also steampunk military fiction, because hell yes I write what I want.
Eszter spent her first battle in breathless fear, not of some errant shell or cannonball, but of the engineers.
For further story notes, check out Machines in Motion's original publication post!